Cardiff Electric
is a fictional computer software company in
Halt and Catch Fire
, located in Texas during the early 1980s.
History
Background
John Bosworth, senior vice president when the show begins, states in one of the first two episodes that he has been with the company for 22 years. That means the company has been around since at least the early 1960s. Nathan Cardiff founded the company, and is still in a leadership role during the show. Even so, John is handling a lot of the personnel matters, the company finances, and the day-to-day operations.
Season 1
It is clear in the first episode, that John Bosworth and Nathan Cardiff have an old-school approach to business. When the company begins to lose business accounts rapidly in the second episode, John Bosworth doesn't want a younger employee's approach because he says it's all about maintaining established relationships.
Prior to John Bosworth hiring Joe MacMillan, the company was selling computer software. This is shown when Joe and Gordon Clark meet with some executives to try to sell them company products.
Joe MacMillan has a vision to enter the company in the PC race and forces this to happen when he convinces Gordon to help him reverse engineer an IBM personal computer. This is actually illegal unless an outsider with no prior knowledge of Cardiff Electric PC reverse engineering works in a controlled environment, away from the engineer who was already working for the company. Joe recruits Cameron Howe, a college student, to be the engineer with no prior knowledge who will work in the "controlled environment." Joe later reveals that he notified IBM about him and Gordon reverse engineering the IBM PC. This causes collaborative efforts between John, Gordon, Joe, the attorney for Cardiff, and other employees to "keep their story straight" as IBM executives and IBM attorneys interview them.
Cardiff Electric passes the initial test with IBM and leaves, but soon recruits companies holding business accounts with Cardiff and its employees (which Joe refers to as "being raided"). He tries to help, but John wants to handle the situation with old-school business approaches. In addition, John and Nathan Cardiff view Joe as a threat and takes his way of forcing them in to the PC race personally. John blames Joe for endangering the company and tells him he will cost people jobs.
Work in Progress
Season 2
To be Added
Halt and Catch Fire - Fact or Fiction?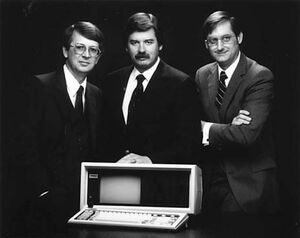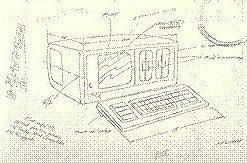 Actually, it did happen and it WAS revolutionary - Osborne, Kaypro, Otrona, Dynalogic Hyperion were all in the "luggable"
[1]
market, but only COMPAQ survived because the others often failed to reliably run certain IBM PC software/hardware because they were proprietary designs implementing a subset of the IBM PC.
[2]
Similarities and Differences
Cardiff Electric closely resembles the emergence, and timing, of COMPAQ Computer corporation. I expect the producers of HACF went to extreme lengths to prevent the obvious connection from being the subject of a lawsuit, but the facts remain.
Similar - Both Companies are Texas Based
Different but Similar - Both rely on Big-Business management experience and hire best-of-breed. Cardiff vision comes from ex-IBMer Joe, while COMPAQ founders were formerly from Texas Instruments. In a bit of tongue-in-cheek irony, Gordon's wife Donna is even a Digital Engineer at Texas Instruments!
Similar - COMPAQ utilized a "dirty" team writing BIOS Specs after viewing IBM PC source code, that the "clean" team would turn into legal code. [3]
Similar - Both Cardiff / COMPAQ produced a portable (called "Lugable" at the time) IBM Compatible computer.
Similar - While COMPAQ itself never claimed 100% BIOS compatibility with IBM, they were acknowledged the best by the industry.[4]
Different - Cardiff is already an IBM competitor - COMPAQ a startup, whose product was sketched on a napkin at a Pancake House.[5]
Different - IBM published both the Source code and the Schematics of its PC - creating a vast third party hardware/software aftermarket.
Similar - But this caused competitors no end of extra cost and complexity maintaining a "clean" team of coders who in no way could have seen the easily available "IBM Technical Reference Manual"
Similar - The teams of IBM auditors and lawyers descending on competitors, threatening, insisting on the double blind (dirty/clean) development - very real.
References and Citations
Community content is available under
CC-BY-SA
unless otherwise noted.